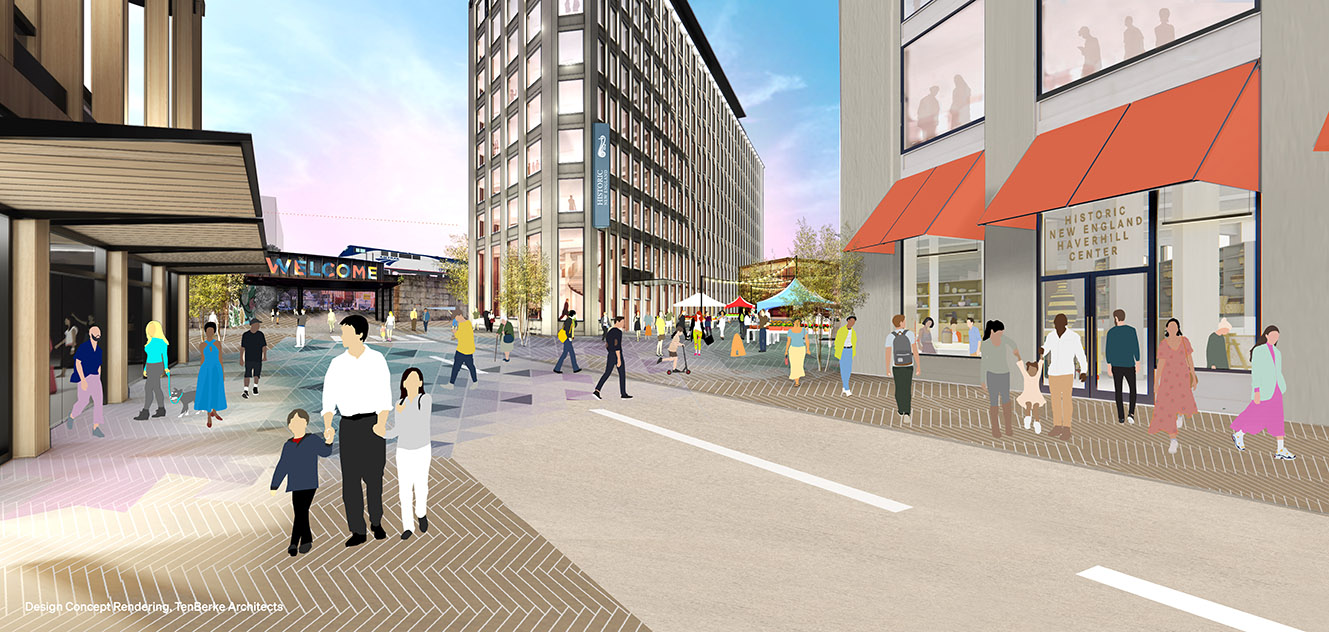 Explore living archives, state-of-the-art storytelling, and pioneering exhibitions. Experience dynamic installations and performances by world-class artists breaking new creative ground. Expand your knowledge with hands-on learning opportunities from top innovators and makers. Get excited.
Historic New England will evolve its downtown Haverhill location to unprecedented visitor and exhibition spaces and partner to develop residential, innovation, hospitality, and dining facilities. The Haverhill Center will support an improved streetscape, including expanded public art, lighting, signage, and green space. 
This cultural district will serve as community catalyst, strengthening local and regional businesses, arts, environmental, and social institutions and significantly drawing new visitors and revenue to the area.
"We envision collaborating with the community to develop sustainable, more livable, resilient, and dramatically improved amenities, anticipating that the impact of the downtown cultural district will reverberate internationally."
—Vin Cipolla, president and CEO, Historic New England
Historic New England's collection includes more than 125,000 objects and over 1.5 million archival documents. From teddy bears to tattoo flash, there's something for everyone! To understand the breadth of the collection and the many stories it contains, you can explore a small sample below.
You can help shape the vision for the Haverhill Center. Join us at community events around the city that showcase exciting stories, creative activities, and compelling traditions. Please come see us to learn more about our vision for the Haverhill Center and become part of the story.
Historic New England Haverhill Center
Historic New England is the largest cultural real estate presence in Haverhill, Massachusetts. Our campus is conveniently located approximately 35 miles north of Boston in Haverhill's historic downtown and easily accessible by Amtrak, MBTA Commuter Rail, and three major highways.
To learn more about the Haverhill vision and how your philanthropy can have a transformational impact, please contact Elliot Isen, Haverhill campaign officer, at [email protected] 
Let us know your thoughts
We'd like to hear from you! 
Sign up for updates on the Haverhill Center project
ABOUT HISTORIC NEW ENGLAND
Historic New England, founded in 1910 as The Society for the Preservation of New England Antiquities, is the largest and most comprehensive independent preservation organization in the United States, welcoming hundreds of thousands of visitors each year to 38 exceptional museums and landscapes, including several coastal farms. 
Historic New England operates the Haverhill Center and has the world's largest collection of New England artifacts comprising more than 125,000 decorative arts and objects and 1.5 million archival documents, including photographs, architectural drawings, manuscripts, and ephemera. Engaging education programs for youths, adults, and preservation professionals and award-winning exhibitions and publications are offered in person and virtually.
The Historic New England Preservation Easement program is a national leader and protects 121 privately owned historic properties through the region.